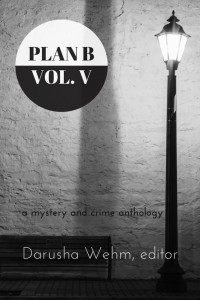 Get the fifth Plan B anthology for  $2.99 (USD) directly from Plan B in all formats.
Also available on Amazon
, Google Play, Barnes and Noble, Kobo and iBooks.
---
Every place has its unique sensibility; a flavour that makes it special. Whether one is going somewhere new or discovering the secrets that make the familiar seem foreign, where you are matters as much as when you're there.
The stories in this fifth collection from Plan B Magazine occur at the intersection of the familiar and the strange, the rise of the unexpected and the twist in the road. Let's take a journey to the unknown.
Table of Contents:
"Honeymoon Sweet" by Craig Faustus Buck
"Broad Daylight" by Eve Fisher
"This Land of the Strange" by Math Bird
"Please Wait" by Robert Dawson
"Fill In The Blanks" by Stephen D. Rogers
"The Double Iron Cross" by William E. Wallace
"Red Bait" by Edd Vick & Manny Frishberg
"Broken Hearts" by Laird Long
"Intimate Knowledge" by Suzanne Baginskie
"The Asshat Fund" by Todd Morr
"Mysterious Private Investigations: by Peter DiChellis
"Coffee and Killings" by Simon Maltman
"The Good Neighbor" by Lawrence Buentello